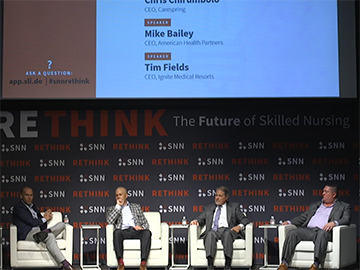 During the Skilled Nursing News RETHINK conference on September 1, post-acute providers from all over the country met in Chicago to network and learn best practices. After a tumultuous past year due to the pandemic, attendees were excited to discuss hot topics and emerging health care trends.
Mike Bailey, President & CEO of American Health Partners, served on the opening panel with fellow executives, Chris Chirumbolo, CEO of Carespring, and Tim Fields, CEO and co-founder of Ignite Medical Resorts. These industry leaders provided invaluable insights to attendees regarding the turbulent past year as well as what the future holds. The conversation focused on COVID-related issues and policies, such as staffing and employee vaccine mandates.
"We try to encourage everybody to do the best we can, but the biggest issue is if one health care sector is singled out, that's unfair," Bailey said during the panel discussion. Even if government officials were to extend the mandate to all health care providers, Bailey believes there would likely still be challenges. "Both finding and retaining staff is a challenge that remains at the forefront of many — if not all — nursing home operators' minds."
Several provider attendees were beginning their joint ventures and expanding ancillary services. Chirumbolo noted that his organization was evaluating an institutional pharmacy and saw great promise with the ISNP model. During the panel discussion, several heads perked up upon Bailey's comment, "We don't generate the patient, we receive them." Bailey followed up with the fact that operators will continue to have their businesses dictated to them unless they implement revenue generating strategies such with the ISNP model.
Overall, most attendee organizations were optimistic about the post-acute industry and interested in learning more about the American Health Plans model.