Q&A About ISNP Enrollment
January 29, 2021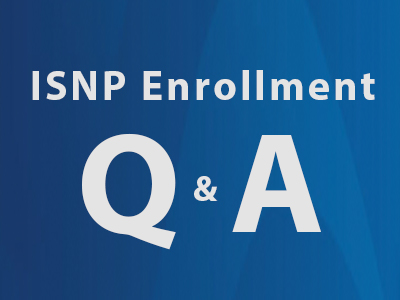 Q1:      How does an Institutional Special Needs Plan (ISNP) differ from the other Medicare Advantage (MA) plans?
A1:      ISNPs are specifically designed for those who live in nursing homes. From the model of care, supplemental benefits, formularies and provider networks, all aspects of these plans are designed specifically for older and more frail residents who live in a long-term care setting. Medicare Advantage plans are designed for Medicare Beneficiaries who are younger, more active and able to live independently within the community. MA plans traditionally do not work well for those living in a Skilled Nursing Facility (SNF).
Q2:      What are the benefits of an ISNP for the nursing home?
A2:      An ISNP has a strong focus on early intervention and prevention. This means residents get more preventive care that can result in fewer hospitalizations and avoidable ER visits. When a resident can get the needed health care in your facility, they are not uprooted as often and put at risk of infections that are more likely to occur when being admitted to a hospital. Receiving care in the nursing home also reduces stress and disruption for the resident and family. When a hospitalization can be avoided, the nursing home also realizes less turnover in the resident population, fewer lost room and board charges, fewer ancillary expenses like transportation to/from the hospital, and ultimately more bed days. All of this leads to the potential financial bonuses via shared savings.
Q3:      How do we build our member base?
A3:      For the ISNP to be successful, the nursing home must make it part of their organization's culture. Leadership must get buy-in from corporate/facility leaders and be clear with staff that the ISNP is a priority.  ISNP activities must then become part of the staff job duties. Start by selecting a "champion" to be the advocate and bridge to the residents/family members. Once this is in place, we can provide processes and implementation support to ensure the message is supported so that residents and their families learn about this important and valuable option.
Q4:      How will the ISNP clinical team interact with the existing clinical team within the home?
A4:      The ISNP clinical team will work hand-in-hand with the clinical team in the home. The ISNP clinical team is there to "add to" the good care that is already being provided by your internal team with case management and routine visits by an Advanced Practice Provider (APP), such as a Nurse Practitioner or Physician's Assistant.
Q5:      How will the APP visits effect the resident's Primary Care Providers (PCPs) who are already coming into the home?
A5:      The APP visits will have no negative effect on PCP visits with residents. The PCPs will still be able to bill on a fee-for-service basis for the services they are providing. Additionally, APPs will report to and work with existing PCPs.